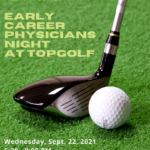 Join your fellow early career physicians (those 40 and under or in their first four years after completion of residency and/or fellowship) for a long-awaited opportunity to network. Hors d'oeuvres and first drink on MOMS.
5:30 – 6:30 PM Networking
6:30 – 8:00 PM Golf
Topgolf
908 N. 102 Street
Omaha, NE 68114
Registration is now closed. If you are interested in attending, please email Sommer at slassiter@omahamedical.com and we can add you to our waiting list should anyone cancel his or her reservation.
Sponsored by our Platinum and Gold Strategic Partners and the COPIC Foundation