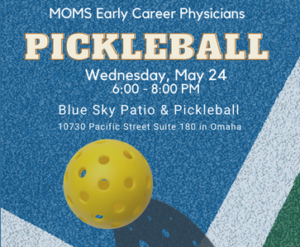 MOMS Early Career Physicians will be gathering for pickleball, food and beverages at Blue Sky Patio & Pickleball.
Pickleball is America's fastest-growing sport because of its low barrier to entry. It's fun, easy to learn, and provides a great workout as it combines elements of tennis, badminton and ping-pong. If you're interested in playing, suggested dress is leisure/athletic attire with comfortable shoes. We also welcome ECP members to attend for networking. Dinner will be provided and there will be a cash bar available.
Register by May 17.
Early Career Physicians includes residents, fellows and physicians in the first four years out of training.