Registration is now closed.
If you can no longer attend, we ask that you please notify us so that someone else can use your spot. Thank you.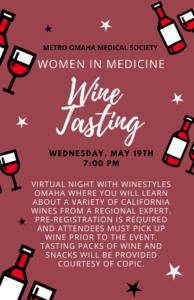 Join us for a Virtual Wine Tasting event on Wednesday, May 19th at 7:00 PM. WineStyles Omaha will be guiding us through the sampling of six different wines from the California region. Tasting packs of wine and snack boxes will be provided courtesy of COPIC, and in order to ensure freshness, they must be picked up from the MOMS office between 1:00 – 6:00 PM the day of the event.
If you are unable to pick up the package during that time, you are still welcome to participate in the tasting by registering and purchasing the full bottles of wine on your own. WineStyles will have a list available at their store of the wines we will be tasting, and they can assist you in purchasing the full-size bottles at a discounted rate. To maintain the integrity of the wine, they do not open the bottles for packaging and distribution until just hours before the event, and will recommend that you keep personal bottles sealed until that time as well.
Pre-registration is required for everyone who plans to attend, regardless of how you choose to pick up the wine. This event does have limited capacity. The deadline to register is May 5th.
Zoom information and additional details will be sent out closer to the event.
Questions? Please email slassiter@omahamedical.com