The Metro Omaha Medical Society started the Strategic Partnership Program in 2012 as a way of building and strengthening the Society's relationships with organizations that we have identified not only as industry leaders, but that also demonstrate deep understanding of health care and a focus on serving physicians and their medical practices. Our goal is to serve as a valuable and unique bridge to bring together our member physicians and our Strategic Partners for the benefit of both.
Your commitment to this program will provide you with exclusive access and opportunities designed to bring you, your organization and what you have to offer, to our member physicians.
AVAILABLE PARTNERSHIP LEVELS
There are four partnership levels available on an annual basis following the calendar year.  New partnerships throughout the year are prorated on a monthly basis.
PLATINUM: $7,500
GOLD: $5,000
SILVER:  $2,500
BRONZE:  $1,500
BENEFITS FOR ALL PARTNERSHIP LEVELS
PRESENCE ON MOMS STRATEGIC PARTNER WEB PAGE: Includes your partnership level, logo, contact information and web link.
LIMITED PARTNERSHIPS: Strategic Partnerships are limited to no more than three partner organizations within an industry.
SPONSORSHIP AND/OR ATTENDANCE AT MOMS ANNUAL MEETING: Sponsorship and attendance at Annual Meeting & Inaugural Dinner (details vary by partnership level). Sponsorship and attendance at other member events varies by partnership level.
COLLABORATION: MOMS will facilitate communication and collaboration between Strategic Partners.
PHYSICIANS BULLETIN MAGAZINE ADVERTISING:

RECOGNITION IN STRATEGIC PARTNER AD: Complimentary inclusion in MOMS Physicians Bulletin magazine half page ad that lists all Strategic Partners.  Ad appears in all issues. Physicians Bulletin is a Magazine distributed to 2500+ physicians and practice administrators in the metro-Omaha area.
20% PARTNER DISCOUNT ON ANY PURCHASED AD SPACE:  NOTE: To qualify for this discount, ads must be purchased through Sandy Matson at Omaha Publications – (402) 884-2045 or sandy@omahapublications.com. Subject to ad availability.

PREFERRED EXPERT RESOURCE: Strategic Partners will be the preferred expert resource for event speakers and article authors.
PROMOTION OF STRATEGIC PARTNER EVENTS:  MOMS will utilize available member communications to share your event information with our network of physicians and/or practice management staff.
COMPLIMENTARY PHYSICIANS BULLETIN MAGAZINE SUBSCRIPTION
ADDITIONAL BENEFITS FOR PLATINUM, GOLD & SILVER PARTNERS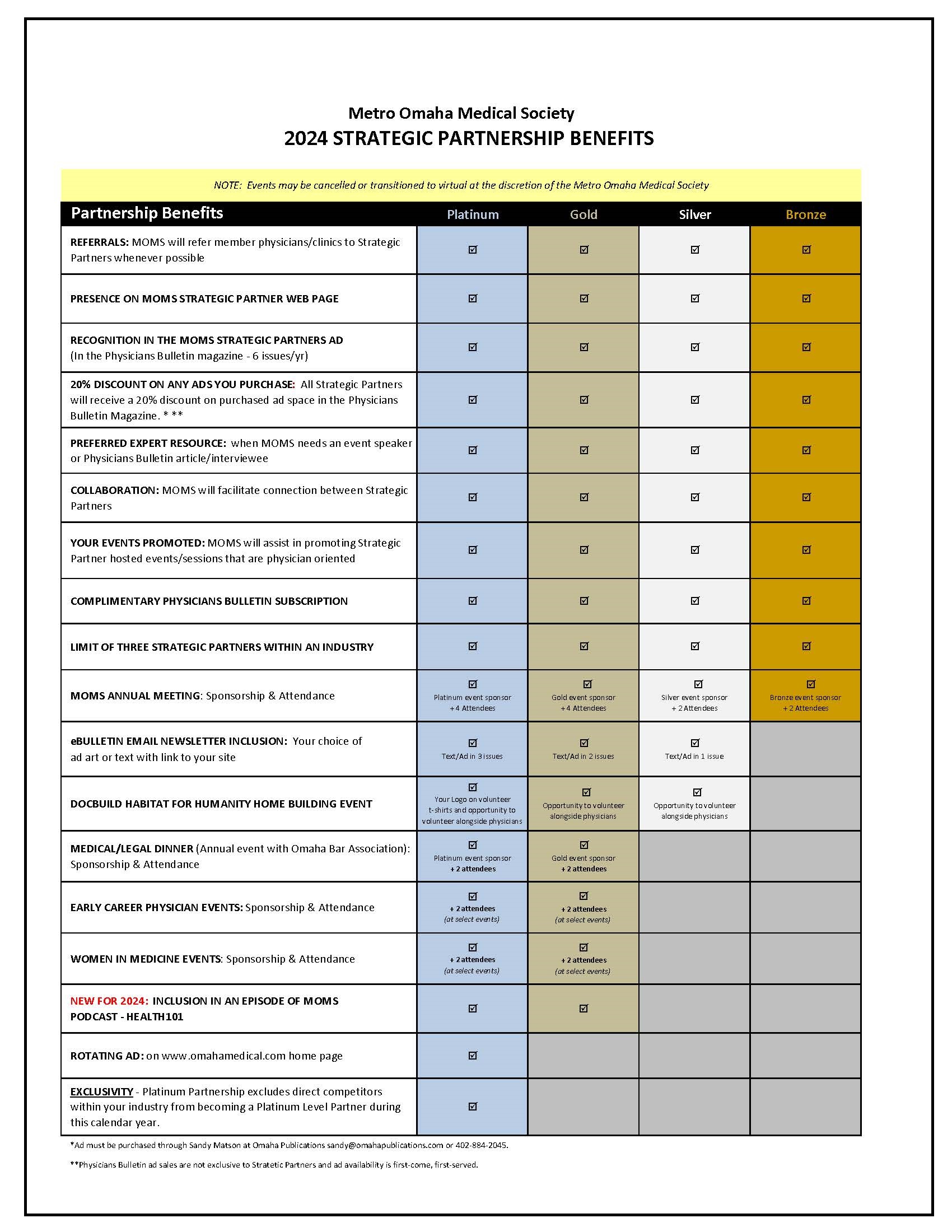 If you opt for a Platinum, Gold or Silver Partnership, additional benefits are available.  View our Strategic Partnership Benefits Chart to compare the added benefits that are associated with each partnership level.
Who are our current Strategic Partners?  You can view them on our Strategic Partners webpage in the Resources portion of our website.
INTERESTED IN BECOMING A STRATEGIC PARTNER?
If you are interested in discussing a Strategic Partnership, please complete the Strategic Partnership Agreement Form below to provide some information about your organization and the Partnership level that interests you.  We will reach out to you with additional information on next steps.
Questions, please contact Laura Polak.
Strategic Partnership Agreement